EU blasts Turkish aggression around Cyprus, in Aegean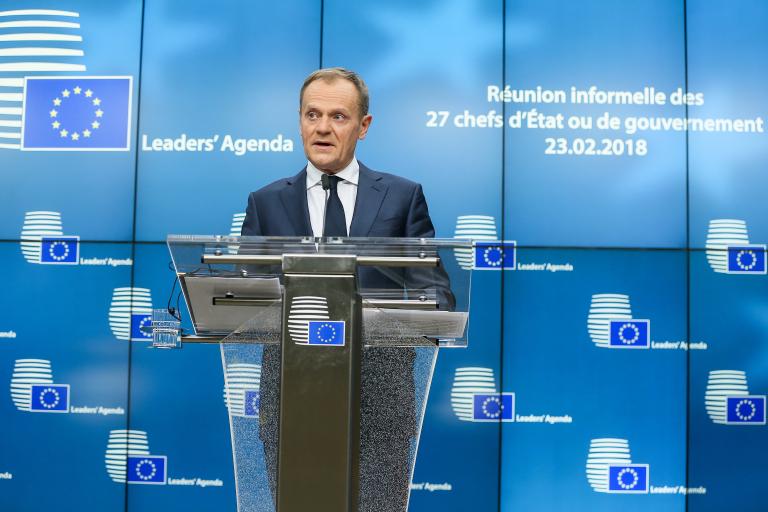 Following an informal European Unit summit this evening, European Council President Donald Tusk, speaking as he said on behalf of all 27 European Union member-states, denounced Turkey's bellicose activity in the Aegean and in Cyprus' Exclusive Economic Zone (EEZ) as a patent violation of the sovereign rights of two member states.
Tusk said that Cypriot President Nikos Anastasiadis and Prime Minister Alexis Tsipras informed fellow leaders about "Turkey's illegal violations" in the Eastern Mediterranean and the Aegean.
"On behalf of all EU leaders, I would like to express our solidarity with Cyprus and Greece, and urgently call on Turkey to terminate these activities," Tusk said, in what was unprecedentedly harsh language from the EU about Ankara.
The intervention comes directly after Ankara succeeded in blocking the Italian energy giant ENI from drilling in Block 3 of the island's EEZ, off the southeastern, Turkish occupied part of the island, and shortly before the American energy colossus ExxonMobil is to begin preliminary oil and gas exploration in Cyprus' EEZ.
Ankara staged an air and sea blockade of the island, and even threatened to sink ENI's huge SAIPEM 12000 drill.
"I reiterate our support for the sovereign right of the Republic of Cyprus to explore and exploit its natural resources, in accordance with EU and international law, including the UN Convention on the Law of the Sea," Tusk said.
Tusk underlined that EU candidate-country Turkey's actions are "a clear violation of Turkey's commitment to good neighbourly relations, and the normalisation (of relations) with all member-states," a direct reference to Turkey's refusal to recognise the Republic of Cyprus.
When Cyprus was admitted to the EU in 2004, Protocol 10 of the Accession Treaty declared that the entire island acceded to the EU, but that implementation of the EU acquis, the body of European law and regulations, was suspended, pending a settlement between Greek Cypriots and Turkish Cypriots.
Ankara claims Cyprus' decision to exercise its sovereign rights is "unilateral" and must be put off pending a settlement.
Nicosia has hoped that pursuing its hydrocarbons programme could be an incentive for Turkey to agree to a settlement that will be acceptable to both sides, but without Ankara having a right of intervention as a guarantor power, along with Greece and the UK, which retains its own sovereign bases on the island.
Anastasiadis, who was recently re-elected to a second five year term, has said that he is prepared to put party of the revenues from oil and gas deposits, in trust for the Turkish Cypriots.
George Gilson
Ακολουθήστε

στο
Google News
και μάθετε πρώτοι όλες τις ειδήσεις
Δείτε όλες τις τελευταίες
Ειδήσεις
από την Ελλάδα και τον Κόσμο, από

Περισσότερα άρθρα για

Αγγλική έκδοση