Interview by Antonis Karpetopoulos and Margarita Sfetsa
He was very punctual in arriving for our interview, a rarity for a football player. Yaya Toure, however, is not your run-of-the mill player.
He learned the value of exactitude in Britain, and he took something from all of the countries in which he played, which one can discern in his manner of speaking. He answered us in French, with the ease of a Frenchman who revels in using many words, to persuade his interlocutor that the discussion is very serious.
Although austere and careful in his choice of words, the 35-year-old superstar from the Ivory Coast often laughed with our questions and during his responses. He said that he is training hard so that he can be ready to play in two weeks, and he seems like he cannot wait. He appeared quite earnest when he said that his dream was always to return to Greece. He seemed very prepared for his second career.
It was impossible to get him to speak about those who he did not want to talk about, and he stubbornly refused to talk about the past, as he always lives for tomorrow.
He stressed that it is impossible for him to imagine his life without football. For us, it is impossible to think about football without Yaya Toure.
AK: How is it that someone who has played with Monaco, Barcelona, and Manchester City, and who has lived in Monte Carlo, Barcelona and Manchester, wants to return to Greece, to play for a team with which he worked for only one year?
My every decision is determined by my passion for football. Although I have played in many big championships, I wanted to end my career here. I always wanted to win titles. I could have chosen to end my career in Japan or China, but that would not have been enough for me. I want to fulfil my passion.
AK: In 2011, when you had come for a friendly match between the friends of Zidane and Ronado, you had told us that you want to end your career here in Greece.  Few people believed you.
I often say things that make others believe that I am not speaking seriously, but even from back then my aim was to return. I feel at home here. I am sorry that I stayed for only one year the first time around. I feel that Greece is where I launched my real career. With Olympiacos, my mentality changed, and I realised how important it is to be motivated to reach high, and how important it is to win. It is here that I earned my first title. The philosophy of the team had an impact on me. I learned how to be a champion. I am very sorry that Olympiacos finished third last year. Everything can happen in football, but I returned to help the team reach the top. It is a nice opportunity. That night, in the friendly match with my friends Ronaldo and Zidane, while others found joy in seeing great players, I was happy to be once again at Karaiskakis Stadium and to hear the crowd shouting my name again. I was speaking very sincerely back then – of that I can assure you.
MS: How did you find the team upon your return?
It is exceptional. It has great players, a coach who works hard, and wonderful facilities. I am glad that I found everything better.
AK: We are very familiar with the player Toure, but we know less about the man. I always believed that there is a huge Toure family, in which everyone plays football and are great athletes.
No, no. I have a brother who played at the top level and today is an assistant coach for the Celtics, and I had a brother whom I lost. We were a quiet family. I have no odd stories from my childhood years to tell. Our father used to tell us that we should finish first and not tolerate defeat, and that surely influenced me greatly. He used to say that you can lose, but never with disgrace – always with dignity and always with a fight.
AK: I am impressed by the fact that you say you learned the art of the championship here. When you came at a young age, you seemed already prepared. I remember a friendly match with Valencia that summer, which made us wonder where Olympiacos found you.
I always worked hard. When I came to Greece and developed a good relationship with the management of the team and with the fans, I realised that I will accomplish a lot. I grew stronger. I learned a lot in Ukraine as well, but it was different here. Afterwards, I felt more self-assured. I went prepared to both Monaco and Barcelona. The next steps were extremely swift, like a barrage. I did not realise how fast the three years in Barcelona passed.
AK: What was your relationship with your coaches? We used to read often about quarrels and difficulties with Pep Guardiola.
Don't ask me to speak about him. I have nothing more to say. It is a thing of the past. Today, with Olympiacos, I have an exceptional coach. That is what counts. I respect him greatly, because he is calm and explains to the team what he wants. He reminds me of great coaches that I had, like coaches Pellegrini and Mancini, people who were calm and very likeable. Those are the people I want to talk about.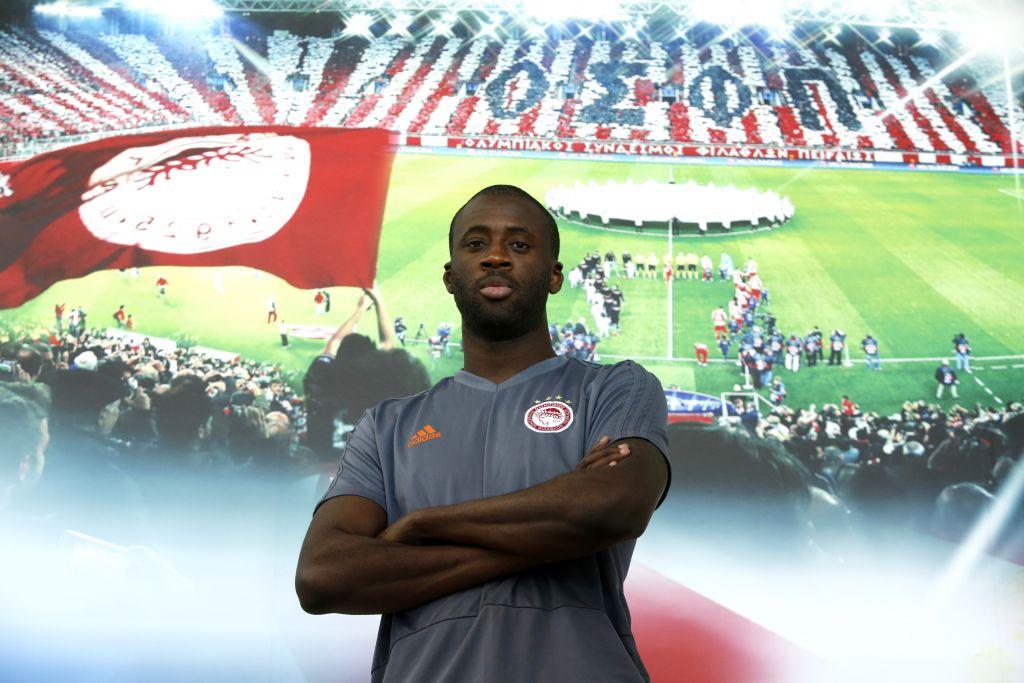 M.S. What are your impressions of Greece, now that you have returned after a number of years, on the social and political front?
The truth is that I have no interest in politics. While I was in Britain, I heard a lot about the Greek crisis, and I know there were many difficulties, but I think that is true for all of Europe. Greece is a wonderful country to live in, and it will manage. Greeks are hospitable, and I like the fact that they do all they can for those they love. You don't find that everywhere, and that for me is real politics. I would say that my first impression was marvelous, because the first image I recall is the celebration of the fans who welcomed me. It was incredible.
MS: Are there events on the global political stage that you follow and that influence you?
No, I follow very little. The life of a football player presupposes complete dedication to what he is doing, and you cannot but be a football player 24 hours a day. My mind is on football. Naturally, I know that there are problems all over the world – and in my country of course. I must confess that I am a person who believes very much in God. I believe that God helped me, and I try to remunerate that blessing by trying to be the best football player I can be. I feel the power that has been granted me.
MS: How does a football player like Toure spend his free time? Do you read books?
I read few books. I don't have a beloved author, if that is what you are asking. I mainly watch films and television, and you know what?  I want to relax as much as I can, not to spend my energy, and to sleep calmly.
MS: What films do you like?
I like thrillers and adventure films. I like Denzel Washington and Idris Elba and Tom Cruise. I also like horror films. Do I look like a person who would watch sentimental comedies?
MS: Can you imagine your life without football?
I will tell you something you might find odd, so that you can understand my passion. I watch almost all my matches on television and analyse them. I see what I do, how I played, and pinpoint my mistakes. I do it alone. I believe it is a simple and easy way for one to improve. I watch a lot of football in my free time. I knew all the teams of the Premier League very well all these years. I enjoyed watching and learning.
AK: I am impressed by the fact that you say that. Most players, especially from a certain age on, do not do that. They have had their fill of football.
I adore football. I remember when I was little and they gave me a football as a Christmas present, I felt happy. That developed into a passion, and then into work, and then into my very life. I cannot do without it. I think that to succeed as a football player, that passion is necessary. It may take one, two, or three years to become established, but you will succeed only if you make it your goal. Even if I stop playing football, whatever I do will be related to the sport.
AK: Might we see you as a coach after some years?
I am still young for something like that! It could happen, but I could also play an active administrative role on a team. I don't know. If I were ever to perform the job of a coach, I would pressure a team to become better. I want the team to improve constantly, to evolve, and to become ever more known in the world – not to stop. What I demand of myself I would demand of the team.
AK: What would coach Toure say to the player Toure, if he had him on his team?
I would tell him not to stop working, not to stop having ambitions, and to continue to transcend his limits. I would say, 'Yaya, you must play in all matches, to always be essential. You are not one for a few matches – you are for everything, and you must always be useful.' If one were to ask me about Toure, I would say that one does not understand Toure during  practice. It is in matches that one understands all football players, by watching the way they move, the relationship they develop with the ball, and how they confront the opponent – all of that.
MS: How would you describe yourself in three words?
Hard-working, a winner, and a person who loves challenges. I used more than three words, but I think I covered it.
MS: Is there something that you are proud of?
Yes, I am proud of my family. I have a very balanced family. I am lucky, because my wife is involved in everything – naturally, mainly with the children. That way I can dedicate myself to football, and that is very important. My career as a football player does not last long. When my professional career ends, I will spend more time with the kids. Fortunately, everyone in my family has shown understanding.
MS: You have worked with great players and coaches, but I would like to ask you about your relationship with your "bosses" – the owners of the teams for which you have played. Does how they approach you play a role, or does that not interest you?
Everything interests me before I embark on something. I am interested in the mentality of the club and its ambitions, and these things often depend on who manages the club. Of course, in football everyone wants to win, but that is achieved more easily by those who have the right mentality, who appreciate the value of hard work, and who can make players understand where they are. Naturally, because I am an accomplished football player, I can also help with that. For example, I can convey the value of the proper mentality to younger people.
MS: Were your negotiations with Mr. Marinakis difficult? Was there a magic word that he said that convinced you to sign on?
The most important thing for me was to speak to the president of Olympiacos, and to hear that he wants me to turn the team around and make a difference. I realised that we would come to an agreement quickly. It was probably more important for me to speak to him, than for him to speak to me. I was familiar with the team, and I knew that I wanted to return. From the start I wanted to make it clear that I don't want to return to Greece to vacation or to have a quiet life. I want titles, and I have goals, and I feel that I am indebted, because last time I stayed for only one year. I know that many say that I am old now, and perhaps they view me with mistrust, but I can tell you one thing. The most important transfer in Europe this year was that of Cristiano Ronaldo, a player who is thirty-three years old. He left Real for Juventus because he had ambitions. He wanted to win the Champions League with another football club. Similarly, I wanted to come here to help the club return to the top. Of course, we cannot win the Champions League, but we have our own important mission – to win the Europa League and the Greek championship.
MS: You spoke about Ronaldo with admiration. I like Cristiano very much, and I am glad that his transfer was signed in Greece, at the Costa Navarino.
Greece is everywhere!  I must say that Cristiano made a good choice.
MS: Who is the best player that you have played with until now?
For me, all the players that I have played with are great. I hope they feel the same way about me.
AK: When you had come to Greece many years ago, you had told me that in football, the dream becomes reality when there is 95 percent work, and five percent luck. Do you still believe that is the secret of success?
My career has gone well, hasn't it? It is proof that I definitely was right. Work is above all else. We agree with the president on that. Work, work, work. Do you see that you should believe what I tell you?