The US Ambassador also listed the US companies and multinationals that will be represented at TIF
Growing US-Greece military, economic ties stressed by Geoffrey Pyatt, as US is honoured country at TIF
'We are going to see presentations from top US companies at TIF this year, including major sponsors like Microsoft, Google, CocaCola, Cisco, Visa, IBM, Intralot, Pfizer, and Hewlett-Packard, highlighting the theme '"Harnessing the Power of Innovation and Creativity", said the US Ambassador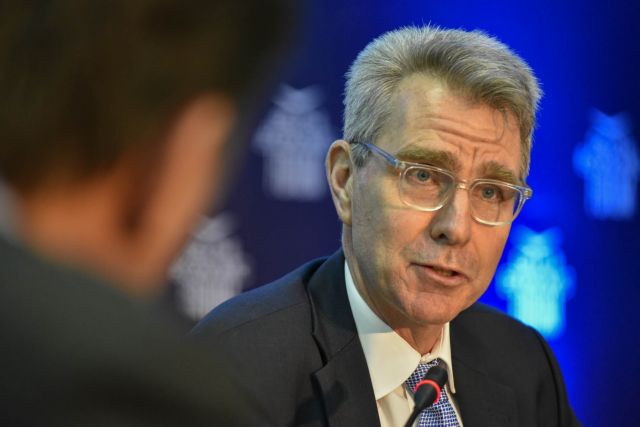 US Ambassador Geoffrey Pyatt stress the importance of US-Greece military and economic ties, as well as the significance of the US being the honoured country at the Thessaloniki International Fair (TIF), in an article published today.
"We considered the timing perfect, as we would be celebrating the last decade of strong US support for Greece throughout the economic crisis just as Greece exited the bailout program," Pyatt underlined in an article published today by the state-run Athens News Agency's magazine Praktoreio.
Pyatt placed particular emphasis on the growing US-Greece military cooperation, on which he offered details.
The US Ambassador also listed the US companies and multinationals that will be represented at TIF, and which have expressed an interest in investing in Greece.
The full text of Ambassador Pyatt's article on US-Greece relations is as follows:
About a year ago, I remember the excitement we all felt, myself and our entire Embassy and Consulate team, as we accepted the Greek government's invitation to participate as the honored country in the 83rd Thessaloniki International Fair. Even more so in October 2017 when our participation was formalized in the White House Rose Garden, where President Trump accepted the Greek government's invitation.
We considered the timing perfect, as we would be celebrating the last decade of strong US support for Greece throughout the economic crisis just as Greece exited the bailout program. We would also be honoring an alliance that has been iron-clad since both our countries declared independence.
But who would have predicted just how important our TIF participation would be. 2018 has truly been the year of America in Greece.
We have seen remarkable progress in our security and defense relationship: we signed an agreement that will bring critical modernization to Greece's fleet of F-16s; we expanded US operations at the Port of Alexandroupoli and agreed on the basing of unarmed MQ-9s at Larissa, which – along with CH-47 Chinook helicopters we had earlier transferred to the Hellenic Armed Forces – were put to use during Attica's tragic wildfires. The Hellenic Navy conducted joint operations with the Harry S. Truman Strike Group, and the U.S. Navy ship and Blackhawk helicopter here at TIF are symbols of our combined efforts this past year.
We are going to see presentations from top US companies at TIF this year, including major sponsors like Microsoft, Google, CocaCola, Cisco, Visa, IBM, Intralot, Pfizer, and Hewlett-Packard, highlighting the theme "Harnessing the Power of Innovation and Creativity" and demonstrating their commitment to invest in and be present in Greece. Exxon-Mobil just won a tender to explore off Crete; Avis re-entered the Greek market with an investment worth over $ 300 million; Hyatt, Marriott and Wyndham are opening new hotels in Athens; and Tesla opened a research office. ONEX has brought the important Syros shipyard back to life. These are just some of the major investments we've seen, and we see TIF as an unmatched opportunity for Greece to highlight the opportunities and to network with major American investors.
TIF also celebrates the very strong people-to-people ties that we share with Greece alongside the western values so important to our democracies. Throughout the city, you see examples of iconic American artworks, and we thank the city of Thessaloniki and Regional Government for hosting these in the highest traffic public spots in the city. We are celebrating the 70th anniversary of our flagship Fulbright educational exchange program, and we have music and film events, an education event, a basketball clinic, a journalism conference and several programs supporting Greek start-ups and entrepreneurs, a critical sector for Greece's full economic recovery.
After the TIF is concluded, we will also have a lot more work to do. Before the end of 2018, we look forward to launching a government-to-government strategic dialogue to examine ways to further bolster our security and defense and economic relationships to face the opportunities and challenges in the region, as agreed by Secretary Pompeo and Foreign Minister Kotzias. TIF will be a landmark in our bilateral relationship, but it is only one stop to a longer journey together and will certainly set a positive tone for next year and the years to follow
Ακολουθήστε

στο
Google News
και μάθετε πρώτοι όλες τις ειδήσεις
Δείτε όλες τις τελευταίες
Ειδήσεις
από την Ελλάδα και τον Κόσμο, από

Περισσότερα άρθρα για

Αγγλική έκδοση