Albanian PM Rama says Athens, Tirana close to EEZ deal, defends Cham property rights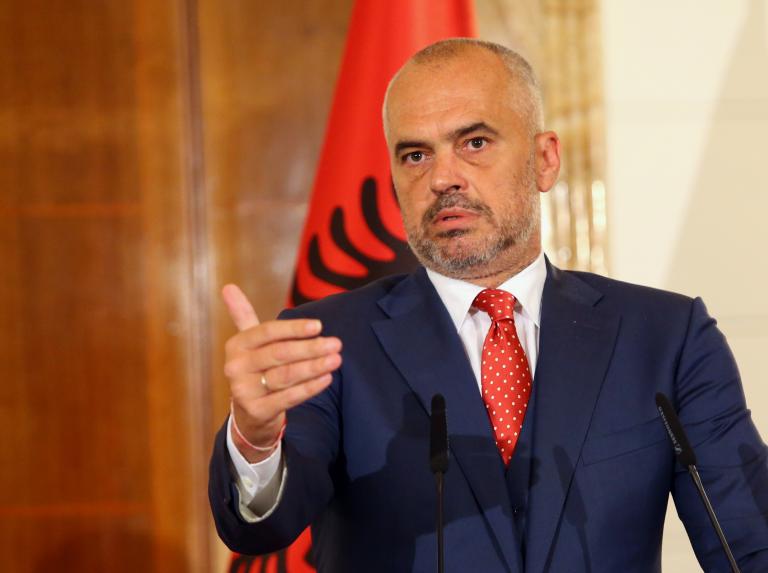 By Alexia Kefala
In an exclusive interview with the daily Ta Nea, Albanian Prime Minister Edi Rama declares that Tirana has no territorial claims against Greece arising from the Cham issue, but that the families of those who left should be able to claim their property rights in the Greek courts.
Speaking of a "strategic partnership" between Athens and Tirana, Rama said the two countries are close to delineating their Exclusive Economic zones, which Greece has pursued for years.
While stressing Albania's fervent desire to begin accession talks immediately with the European Union, Rama also expressed strong support for a settlement of the FYROM dispute, which he argued will have multiple benefits for Athens, Skopje, and the broader region.
What is you evaluation of bilateral relations between Greece and Albania today?
Ordinary people in Albania and Greece have always shown warmth and hospitality to each other. History has connected us since ancient times and through its course, we have seen many great examples of both sides doing good deeds for the other. Albanians fed their neighbors, offering support to those displaced during the unfortunate Greco-Italian War, and Greeks have done the same for us as we emerged from our disgraceful period of Communist dictatorship.
Our people have always wanted and deserved a great relationship between their two nations and states, but politics has not always reflected their desires. This is unfortunate and has led to our relations having had difficult and dark moments over our history.
As Prime Minister I have committed myself since day one to building a strategic partnership between Albania and Greece, based on mutual respect, trust and the will to walk hand in hand towards a better future for our people. It has not been easy, we have had our tensions and frictions, but nevertheless the issues between us have been faced with honesty by both sides.
Whilst this has been a period without any high-level visits between our two governments, we nevertheless have been able to develop a better and deeper understanding of each other's concerns. I believe that we are now in a position to significantly improve our relations, building on the work that has been done by both sides, to address the issues of the past, allowing us to move forward together for a brighter future for our people, our nations, and our region. I am confident that all the hard work that has been undertaken and that will be required in the coming period will pay off and make us all proud of the results.

Our two countries are in negotiations to undertake commitments on various issues. As a prime minister, you have raised the Cham issue. What is Tirana asking for?
On the Greek side, this issue has sometimes been conceived as indicating a hidden agenda on our part towards a so called "Greater Albania." Let me be clear, as we have been with our friends in Athens. Such a territorial claim simply does not exist. And yes, I cannot agree with you more, that such a territorial issue between Albania and Greece cannot stand. Those fuel that kind of fantasy, who sometimes finds refuge in the extreme corners of our political scenes, threaten to alter the truth and undermine the future. They must be eliminated with the strength of our common values and the will of building our future together.
So everyone has to understand very clearly that when it comes to us in Albania, the "Cham issue" only exists as a matter concerning some fundamental rights of fellow Albanians who once lived in your country, and nothing broader than this. I frankly don't think that any rational individual would disagree that these people should have the right to travel back to Greece and visit if they wish to, or that they or their kids should have the ability to claim property rights through the court of law, as every citizen of Europe normally does. Can you imagine today, in 21st century Europe, that some old men and women in Albania are still prevented from entering as others do their neighbor Greece, because their origins are from somewhere in your country?
The same goes for the absurdity of the War Law between Greece and Albania, which is a living ghost of the past between us and whose legal implications create unbearable impediments for people, such as the ones I mentioned above and many others.
How close are we to delineating the EEZ (exclusive economic zone) of the two countries?
I am very confident that after having agreed to sit together and engage with each other with open hearts and minds, as our people do wherever they live together as neighbors, in Albania or in Greece, we can not only solve every misunderstanding or misconception from the past, but also find the best solutions for our common future. And yes, we are close to finding an agreement on the maritime delimitation as well, which will be fair for both Albania and Greece.

The European Union now is opening discussions about the enlargement of the EU to Balkans countries. What do would you like to hear from the European Commission?
Today, the EU needs the Balkans as much as the Balkans needs the EU. Whoever doesn't think so doesn't really understand the Balkans and their importance for peace and stability in Europe. I want to hear a clear strategy from the Commission involving the integration of the Balkans into the Union as part of a broader strategy for the EU.
At a time of substantial change in the world, we require an EU that is strategic and a global leader, dedicated to its vision and values rather than getting consumed with shortsighted tactics and taking decisions based on short-term political considerations. Albania deserves to get a straightforward recommendation to open accession talks, and I expect nothing less from the Commission in a first instance and the European Council shortly thereafter.

Greece is also trying to find a solution on the FYROM issue. What is your opinion on that issue?
It is time to resolve this issue and where is a will, there is always a way. Greece has had a hard time due to a very painful financial crisis, which inadvertently kept the only EU member state in our region away from our regional life and struggles these past years. However thanks to the strong political will to fight back with painful reforms and difficult measures, it seems that your country is now back on track and is returning to regional politics. This is excellent news for all of us in the region.
The name solution is in the best interest of everyone and in your nation's best interest as well. A stable, democratic and prosperous Macedonia (whatever its agreed name might be) is important for the future of its people, for our region, for EU and NATO and for Greece as well. I hope strategic vision and decisionmaking is brought to be bear to resolve this issue, as short-sighted political tactics will not lead us to the future all parties deserve.
Ακολουθήστε

στο
Google News
και μάθετε πρώτοι όλες τις ειδήσεις
Δείτε όλες τις τελευταίες
Ειδήσεις
από την Ελλάδα και τον Κόσμο, από

Περισσότερα άρθρα για

Αγγλική έκδοση