Parliament debates whether to probe politicians whose potential kickbacks cannot be prosecuted
Those labouring under the allegations of protected witnesses, have stressed that the allegations against them are nothing more than a mixture of hearsay, speculations, and conjecture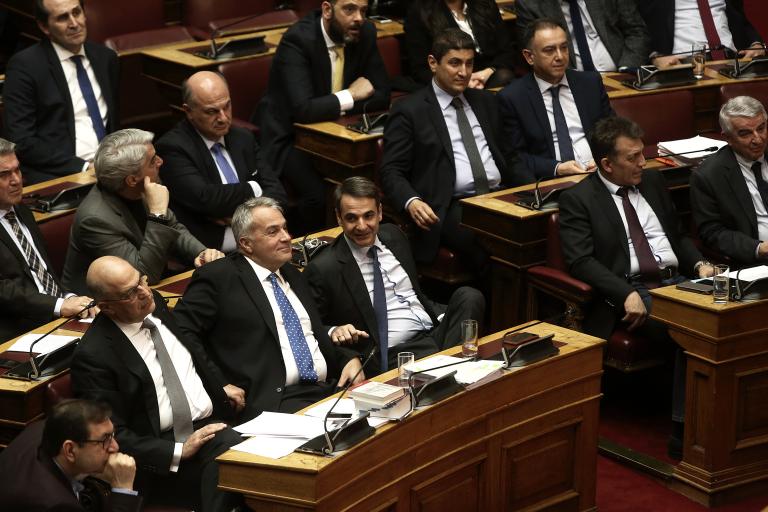 The fiery parliamentary debate today between the government and opposition parties concerns whether two former prime ministers and eight ministers, Greece's Central Bank Governor and its European Commissioner, most from New Democracy, should face a criminal probe in parliament, for having allegedly received kickbacks from the pharmaceutical giant Novartis.
Those labouring under the allegations of protected witnesses, have stressed that the allegations against them are nothing more than a mixture of hearsay, speculations, and conjecture. Witnesses repeatedly testified that thus and so minister must have received x amount for arranging some government policy that directly benefit the Swiss pharma giant.
Moreover, under Greek law, the ministers cannot be prosecuted for the alleged crimes, because parliament itself passed a law enormously limiting the statute of limitations on crimes committed by ministers when they were in office.
One after another, the politicians accused by protected witnesses marshaled evidence that they said prove that they could not have raised the prices of Novartis drugs.
Non-politicians, such as former caretaker prime minister (for two months) Panagiotis Pikrammenos (former president of the Council of State) and Bank of Greece Governor Yannis Stournaras denounced their accusers as vicious slanderers, and invoked their pristine reputations. Stournaras produced data on the operation of his wife's PR firm, which was allegedly used, according to a protected witness, to launder kickbacks to her husband.
New Democracy lambasted the government's decision to set up 10 ballots, one for each of the accused, as there were no specific charges filed against the implicated politicians.
"We would agree with one ballot, but now, we are not about to legitimise any procedure adopted by the government. We see a lot of majority MPs with their heads down (in shame). When you undertake to cut and sew the majority proposal to your measurements, then you must be present, and we are talking about Mr. Tsipras," a New Democracy statement said.
Among the accused, former health minister Andreas Lykourentzos stressed that all politicians are not alike, ex-caretaker PM Panagiotis Pikrammenos said in an emotional statement that the charges against him were fabricated.
In a fiery speech, Alternate Health Minister Pavlos Polakis argued that the presupposition for the corrupt nexus between big pharma and doctors and state officials is the institutional framework set by ministers.
He focused on what many consider the biggest overpricing case, the ophthalmologic medication Lucentis, which he said was sold in Greece with a 33 percent price hike over that in other European countries.
All of the former health ministers accused by protected witnesses asserted that they reduced drug expenditures.
Former ND health minister Adonis Georgiadis accused Alternate Justice Minister Dimitris Papangelopoulos, of unconstitutionally receiving briefings from judicial functionaries on the Novartis case.
Georgiadis charged that Papangelopoulos was placing 25 telephone calls a day to corruption prosecutor Eleni Touloupaki, and the latter agreed to have his phone logs opened, as long as that will be done for others, whom he did not name.
Ακολουθήστε

στο
Google News
και μάθετε πρώτοι όλες τις ειδήσεις
Δείτε όλες τις τελευταίες
Ειδήσεις
από την Ελλάδα και τον Κόσμο, από

Περισσότερα άρθρα για

Αγγλική έκδοση