He made his entrance in football like a comet, declaring himself to be a fan of Apollon Smyrnis FC since childhood
Seven-month prison sentence for shipowner Vellis for defaming Olymiacos FC
The defamation of Olympiacos by the shipowner today resulted in his exemplary punishment in the courtroom. Will this be the last time his name is heard in football?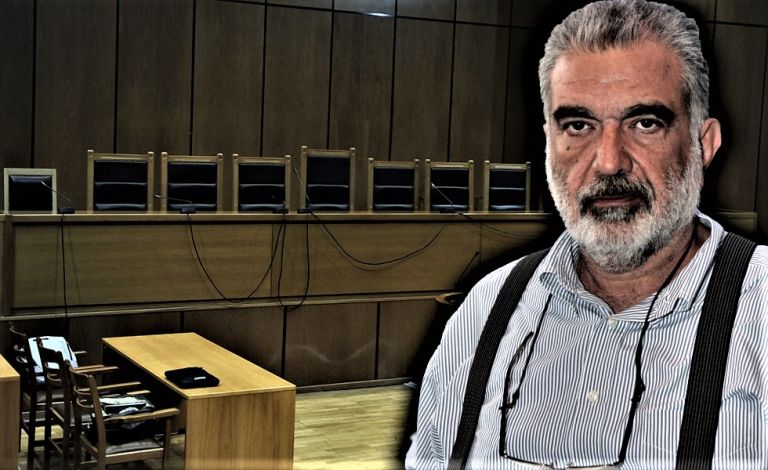 By Lefteris Charalambopoulos
He made his entrance in football like a comet, declaring himself to be a fan of Apollon Smyrnis FC since childhood. He quickly formed a team that started confronting charges one after another, ascending to the Super League in record time.
What happened when the team nicknamed the Light Brigade reached the highest level - did he sense a threat of it being relegated? He came up with a very interesting narrative to open the escape hatch, a story that became the vehicle for his pullout from football. The team which for him obviously was "clean" as it rose higher and higher, suddenly became "directed" and "dirty", when the time came for it to be relegated.
Stamatis Vellis did not come to mind just as a memory. After all, no one in football misses him – not even in Apollon, which since 2014 is owned by the Monemvasiotis family, and remains in the Super League. Press reports have attracted attention to him for years after his departure. The articles are by court reporters to be precise, as just today the time came for him to pay the piper for a series of slanderous statements. Specifically, the 60-year-old shipowner was convicted and was handed down a seven-month prison term for defaming Olympiacos FC. The Red-and-Whites were often targeted by him, naturally without a shred of evidence against them.
The husband of Nineta Peratikou is at the helm of Pleiades Shipping, owned by the Peratikos family. That marriage endowed him with the trust of his father-in-law.
He got involved with Apollon in 2009, upon the urging of his friend (and then technical director of the Light Brigade) Nikos Karoulias. Apollon climbed from the Fourth Division to the Third Division (2009-2010), and thereafter to the Super League, in 2013.
His suspenders were his trademark, and he tried to keep a low profile in the first years, although the first odd incidents occurred early on. Among them was the charge lodged by criminal lawyer Alexis Kougias, that both he and the then Panachaiki FC coach, Ilias Fyntanis, were beaten by the shipowner in Rizoupolis!
It was the match between Apollon and Korinthos FC. Panachaiki three days later would play against Apollon, and its president and coach had announced to Apollon that they wanted to come to Rizoupolis to see the game.
"We had formally informed management that we would be in the stadium. I arrived in the second minute of the game, and as I sat there, Vellis came up from behind and kicked me in the head. Then we were attacked by Venedikis and Syrigos. It was not the fans that did it. It was those three and Apollon supporters who heckled us. Vellis shouted "kill them" to the fans. Fyntanis, Panachaikos player Kochliotis, who was with us, and I were badly injured. We went to the police precinct to file suit against the three. I had not said that Apollon is a dirty team, but rather that
Apollon's victory in the third round with us was dirty. Indeed, the referee was subsequently punished." Panachaiki's people were whisked away from Rizoupolis with the intervention of police.
Three years later, at the Super League level, Apollon received Panionios in Rizoupolis (22/02/2014). The home team opened the score early on, but they finally lost with a reversal (1-2) and faced relegation. Shipowner Vellis, who had already become close with Yannis Alafouzos (with whom he is said to have discussed the package of Panathinaikos stocks in 2017) launched a barrage of statements, with which he tried to persuade people the apparently impending relegation of the team was due to a "system", whose spoiled child is Olympiacos.
Among his remarks against Olympiacos were : "Olympiacos, with its policy of borrowing players, although legal, creates relations with and obligations to teams which benefit, such as Platanias, Ergotelis, and Panionios."; "Olympiacos, even on a bad day, is not allowed to misstep."; "There is a prevailing climate among referees that if you displease Olympiacos, you won't get ahead. That is what referees believe. Olympiacos controls three or four teams in the Super League, and those are favoured by referees."
Those statements were exploited by Alafouzos' media outlets - and also by then allies Melissanidis and Savvidis - in an effort to craft the narrative of charges against the Red-and-Whites, which, as became apparent over time, aimed at replacing the management of the Hellenic Football Federation, and establishing the well-known "cleanup", the supposed benefits of which Greek football has enjoyed after the last year-and-a-half.
Last summer, Stamatis Vellis' name was bandied about in discussions regarding the ownership of Iraklis. In the end, his childhood love for Apollon, as it turned out, did not keep him from expressing an interest right and left in other football clubs.
The defamation of Olympiacos by the shipowner today resulted in his exemplary punishment in the courtroom. Will this be the last time his name is heard in football? Time will tell…
Ακολουθήστε

στο
Google News
και μάθετε πρώτοι όλες τις ειδήσεις
Δείτε όλες τις τελευταίες
Ειδήσεις
από την Ελλάδα και τον Κόσμο, από

Περισσότερα άρθρα για

Αγγλική έκδοση