The most important free agent of the summer decided to make Olympiacos the start and finish of his mythical career
Marinakis elevates Greek football with Toure
Vangelis Marinakis made one of the greatest moves of Olympiacos (comparable only to that of Rivaldo), and thus also offered momentum to all of Greek football.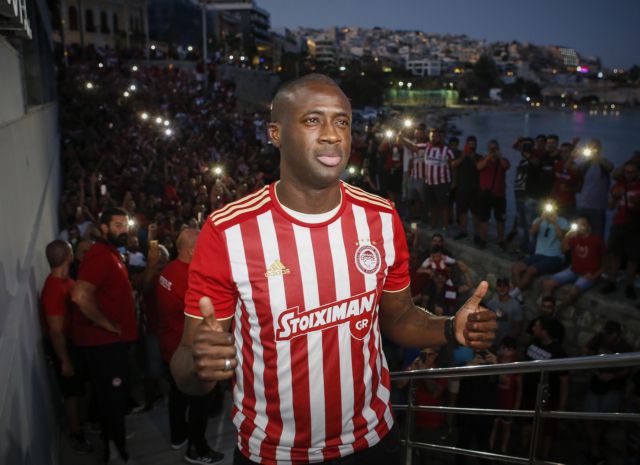 The player from the Ivory Coast becomes an Olympiacos legend by linking his name forever with the Red-Whites, becoming an ambassador for all of Greek football.
Yaya Toure needs no introduction, nor need one wonder how he will contribute to the effort begun by Olympiacos to reach the top.
It was no surprise that thousands of friends of the team hastened to Olympiacos FC's offices just to see him, before he signed the contract of "return'. There has been a climate of great enthusiasm in the last hours, after the announcement of this great transfer.
One must look more deeply. The most important free agent of the summer decided to make Olympiacos the start and finish of his mythical career, linking his course to the Red-Whites.
One must view the transfer more deeply and more substantively. Vangelis Marinakis did not only make good on one of the greatest moves of Olympiacos (comparable only to that of Rivaldo), but in this manner he also offered momentum to all of Greek football.
The bailout memorandum Greece of heavy taxation, which saw its national team disappear from major international matches and unable to maintain a regular UEFA ranking, has long ago stopped being a popular football destination.
One often saw in reporting on the "great" teams that transfers are difficult, because good players are not coming to Greece.
Now, Yaya Toure is playing in Greece. He is a living legend in football. He is a huge brand name in the football industry, and he came to Greece and signed with Olympiacos following an intense international competition.
His mere presence has created an international interest in the Red-Whites, and by extension in Greece, and in the Super League Championship.
Toure's transfer to Olympiacos was covered by the top athletic news outlets internationally. Millions of people were informed about the decision of the Ivory Coast player, of the transfer that was due to Vangelis Marinakis, the man who persuaded Ernesto Valverde to return in the summer of 2010, and who gave the shirt of the top Greek team to Esteban Cambiasso, Javier Saviola, and Eric Abidial.
There is no comparison. The transfer of Toure is the greatest of all, and places the four-time African best player of the year in the ranks of the legends of Olympiacos.
He came to Greece to anchor himself and complete his incredible journey – from Olympiacos to Monaco to Messi's Barcelona to the best City of all eras, and now back again.
Περισσότερα άρθρα για

Αγγλική έκδοση