Greek defence ministry officials fear that the rapid decline of the Turkish economy may lead it to adopt a more intransigent stance toward Greece
US-Turkey clash fuels Defence Ministry concern over jailed Greek officers
'There was a bad evaluation of the situation at the time. For reasons of national interest, the Turkish officers' entry into Greece should have been barred,' defence ministry sources said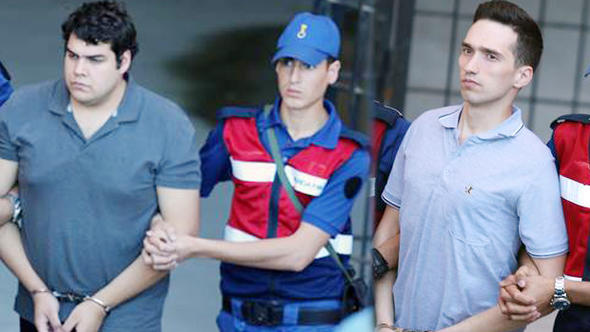 The Greek Defence Ministry is once again on red alert regarding the imprisonment of two Greek army officers in Turkey for the last 163 days, without charges having been filed.
After the Tsipras-Erdogan meeting last month in Brussels, which produced no results, there are concerns in Athens that the tough bargaining between Ankara and Washington over the fate of Pastor Andrew Brunson and Ankara's refusal to free him, may further complicate the case of Greek officers Angelos Mitretodis and Dimitris Kouklatzis
Many in the military leadership in Athens believe that the Brunson case will complicate matters, as Ankara cannot adopt a different stance on the Greek officers, especially without a quid pro quo.
Ankara has repeatedly sought the exchange of the two Greeks with eight Turkish military officers who have been granted asylum in Greece.
Brunson has been jailed since 2016, and the Erdogan regime just a few days ago decided to put him under house arrest, which has been denied the Greek officers.
Even if Brunson is released, however, Ankara may decide to toughen its stance and flex its muscle, extending the incarceration of the two Greek officers.
Some Greek defence ministry officials fear that the rapid decline of the Turkish economy may lead it to adopt a more intransigent stance toward Greece.
President Prokopis Pavlopoulos said that Athens "will use any means at its disposal as a member of the EU and the Council of Europe to defend the officers, but above all democracy and humanity".
Military sources told Ta Nea that they are deeply concerned that the two Greek officers may remain imprisoned for a very long time. They say it will be difficult for Ankara to free the Greeks if the eight Turkish officers or not handed over to Turkey.
They also underline that Ankara's provocative stance is largely due to Athens' botched handling of the affair with the Turkish officers at the very beginning.
"There was a bad evaluation of the situation at the time. For reasons of national interest, the Turkish officers' entry into Greece should have been barred," they said.
Top military brass says the government should increase pressures on Turkey so as to produce results, but it is unclear what further leverage Athens may in this case, after having brought the issue to Nato and the EU, which has demanded the release of the two Greek officers.
Manos Charalampakis
Ακολουθήστε

στο
Google News
και μάθετε πρώτοι όλες τις ειδήσεις
Δείτε όλες τις τελευταίες
Ειδήσεις
από την Ελλάδα και τον Κόσμο, από

Περισσότερα άρθρα για

Αγγλική έκδοση