Russian military advisors will be on the ground in Turkey for a protracted period to oversee the operation of the systems
Turkey disregards US, Nato objections to its purchase of Russian S-400s
The US has resoundingly expressed its consternation over the fact that Nato member Turkey plans to buy a Russian anti-aircraft, anti-missile system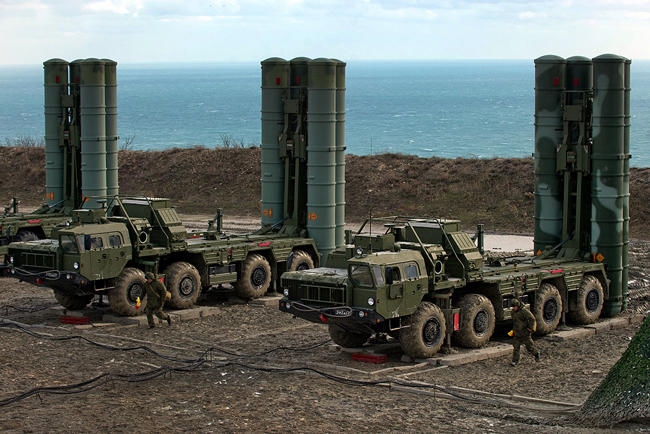 Ankara is poised to purchase not one but two Russian S-400 air defence systems, disregarding the warnings of Nato and the US of a potential arms embargo on Turkey.
The Russian defence products exporter Rosoboronexport announced that the super-advanced anti-aircraft and anti-missile system will be delivered to Turkey in the first half of 2019.
The purchase has also raised heightened concerns in the UK, as the range of the S-400's, if and when they are installed in Turkey, can reach the British sovereign bases on Cyprus.
That means that when British Tornado and Eurofighter aircraft take off from the British Episkopi base on Cyprus, the Turkish S-400s can immediately lock on to them.
2.5bn dollar price tag
The total cost of the S-400s is estimated at 2.5bn dollars.
It should be noted that the Russian company plans to conduct its transactions with its commercial partners abroad in the national currency.
The agreement provides for the training of Turkish military officers in the use of the S-400s, and Russian military advisors will be on the ground in Turkey for a protracted period to oversee the operation of the systems.
If and when they are delivered to Ankara, Turkey will be the first Nato country to use the S-400s.
Greece has the older S-300s, but they were initially bought by Cyprus' late president Glafcos Clerides and were transported to Crete, following Ankara's strong remonstrance, with the approval of Western allies.
"The contract has been completed within the set timeframe. The implementation of the contract will begin in 2019," Rosoboronexport's managing director Alexander Mikheev told the Russian Interfax news agency.
The US has resoundingly expressed its consternation over the fact that Nato member Turkey plans to buy a Russian anti-aircraft, anti-missile system, as it believes that it could endanger the security of certain American weapons systems used by Ankara, including the F-35 fighter jet that Ankara wants to buy.
US blocks sale of F-35s
Meanwhile, Washington is now blocking the purchase of the super-advanced F-35 fighter jet buy Ankara.
US President Donald Trump signed a bill that puts the brakes on the delivery of the F-35s to Turkey.
At the same time, there are heightened tensions in US-Turkey relations over the case of Pastor Brunson.
Brunson was jailed in Turkey after his arrest in October 2016, but was recently placed after house arrest. He is accused of being a member of the Gulen movement, which Ankara has branded as a terrorist organisation.
Nikos Hasapopoulos
Ακολουθήστε

στο
Google News
και μάθετε πρώτοι όλες τις ειδήσεις
Δείτε όλες τις τελευταίες
Ειδήσεις
από την Ελλάδα και τον Κόσμο, από

Περισσότερα άρθρα για

Αγγλική έκδοση