The report raises the issue of the group's possible role as a spawning ground for future terrorists
Questions about high-level government cover of Rouvikonas anarchists' attacks raised by The Economist
'When police officers arrested several Rouvikonas members who broke into parliament last year, Nikos Voutsis, the Speaker, called up the citizens' protection minister and ordered their immediate release on the grounds that 'it was a simple act of protest.'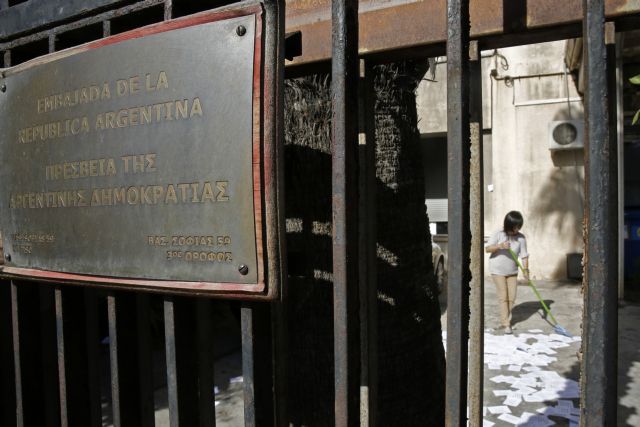 Main opposition New Democracy and others have long charged that the anarchist group Rouvikonas enjoys the protection of the government when it stages attacks on public building, private companies, and foreign embassies in Athens.
A number of analysts have said that Greece Police has orders from the Citizen's Protection Ministry, not to arrest members of the group on the grounds that their activity is simply political activism, even though they have undertaken activities that expose the country internationally, most prominently with forays against foreign diplomatic missions.
The group has drawn the negative attention of the international press, most recently in an 8 November report by The Economist, entitled "Licensed anarchy? How a group of Athens troublemakers goes unpunished".
The report also raises the issue of the group's possible role as a spawning ground for future terrorists, and asserts as fact that some members are linked to the Conspiracy of Fire Cells.
Noting that the group is based in Exarchia, the report cited some of the more violent attacks and indicates that Rouvikonas that appears to enjoy the toleration of both the government and prosecutors.
"Rouvikonas stages nuisance attacks against embassies, government buildings and the offices of multinational companies. Its members are not usually arrested. Prosecutors dismiss their actions as "too insignificant" to justify full-fledged investigation," the report notes.
Tolerance for violent attacks, targeting Embassies
"In recent months, its activists have fired paintballs at the Turkish, French and Austrian embassies; destroyed newly installed electronic ticket barriers at Athens metro stations; and smashed glass doors at the offices of Novartis, a Swiss pharmaceuticals firm."
Tsipras' toleration, playing to the Left
The report puts Prime Minister Alexis Tsipras squarely in the picture of the group's impunity, indicating that toleration of the group aims to resuscitate SYRIZA's lost left-wing credentials, battered by innumerable neo-liberal austerity measures imposed by Greece's creditors.
Anarchist parliamentary immunity?
"When police officers arrested several Rouvikonas members who broke into parliament last year, Nikos Voutsis, the Speaker, called up the citizens' protection minister and ordered their immediate release on the grounds that 'it was a simple act of protest'," the Economist reports.
Links to terrorist group
The report expresses the concerns of some analysts that Rouvikonas serves as a training ground for future terrorists.
"Some members of Rouvikonas have connections with the Conspiracy of Fire Cells, a group that in 2010 sent a clutch of letter-bombs addressed to European politicians, among them Angela Merkel, the German chancellor. Its leaders are now serving long jail terms, but another alleged member is awaiting trial on charges of sending a booby-trapped parcel in 2017 to Lucas Papademos, a technocrat who was also briefly prime minister during the euro crisis. Mr Papademos was seriously wounded while opening the package in his car."
Ακολουθήστε

στο
Google News
και μάθετε πρώτοι όλες τις ειδήσεις
Δείτε όλες τις τελευταίες
Ειδήσεις
από την Ελλάδα και τον Κόσμο, από

Περισσότερα άρθρα για

Αγγλική έκδοση